Alignment Tester
Brake Tester
Jack Stands
High Service Stands
Service Jacks
Trailers - Closed & Open





Trailex
Weaver Jack
Weaver Safety Lanes
Nationwide
Direct Shipping

888-274-8490

Parts Identification
for Weaver Jacks




Linkage and Other Common Parts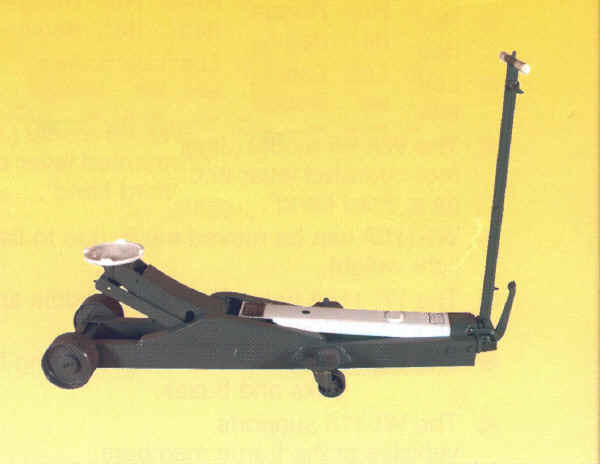 Weaver WA-75B Ten (10) Ton Long Frame Hydraulic Service Jack
How Can I Identify My Jack?

Using the following Dimension Chart, - Compare Features and Measurements
MODEL

CAP.
(tons)


FRONT WHEELS


SADDLE STYLE
AND SIZE


FRAME LENGTH


JACK
WEIGHT


WA-72B
2
Two - 4" Diameter
Triangular or Round
5"' to 6"

51"
136 lbs
WA-73B
4
Two - 5"
Diameter
Triangular or Round
5" to 6"

58"
212 lbs
WA-75B
10
Two - 7" Diameter
Round
9"

66"
356 lbs
WA-85
20
Three- 7" Diameter
Square
7"

69"
531 lbs
Common Parts Identifier & Tips
Ball Weight for WA-73, 75 & 85

S-5355 Ball weight is common to these models
This is placed between the two Check balls in the Ball Chamber
The required size can vary, as maintenance occurs and the ball seats are ground by service personnel to to compensate for wear.
When you order this part, it may be longer than your current ball weight.
You can:
A. Try the longer weight to see if jack operates correctly.
B. Machine down the length with a Grinder to the desired length.

The Ball weight varies between 1" to 1.5" long
You can make your own with1/4" Keystock.

The Two balls operate as Check Valves.
If the Ball Weight is too short, you would experience a half-stroke - that is the fluid would not completely return to the reservoir between strokes.
Casters - Click Here
Cylinders - Click Here
Pump Link Assembly for WA-73, 75 & 85


Several styles were used.
Identify by how two parallel pieces are welded together by
looking down on the piece where the foot lever rod inserts

Most Common older model - it appears as if a Square "S" piece of bar joins
them- Order Part AS-9785

Newer Styles is either
a one piece casting order part # M-2237
or two parallel pieces welded together with a solid bar stock with a hole in it.
also order Part # M-2237

other styles are diagonal bars s or a straight cross bar pieces
are welded to hold them together - Contact us for part #
Seal Kits - Click Here
Wheels - Click Here
More Details Coming Soon on All Models






copyright 1997-2014
Castle Equipment Co.

| |