Alignment Tester
Brake Tester
Jack Stands
High Service Stands
Service Jacks
Trailers - Closed & Open





Trailex
Weaver Jack
Weaver Safety Lanes
Nationwide
Direct Shipping

888-274-8490

The Auto Ambulance


The Weaver Auto Ambulance came in several styles. There were two cradle types - Single and Dual. There were also a Hi Speed Auto Ambulance and a Truck Ambulance.
WEAVER GARAGE EQUIPMENT AD FROM 1918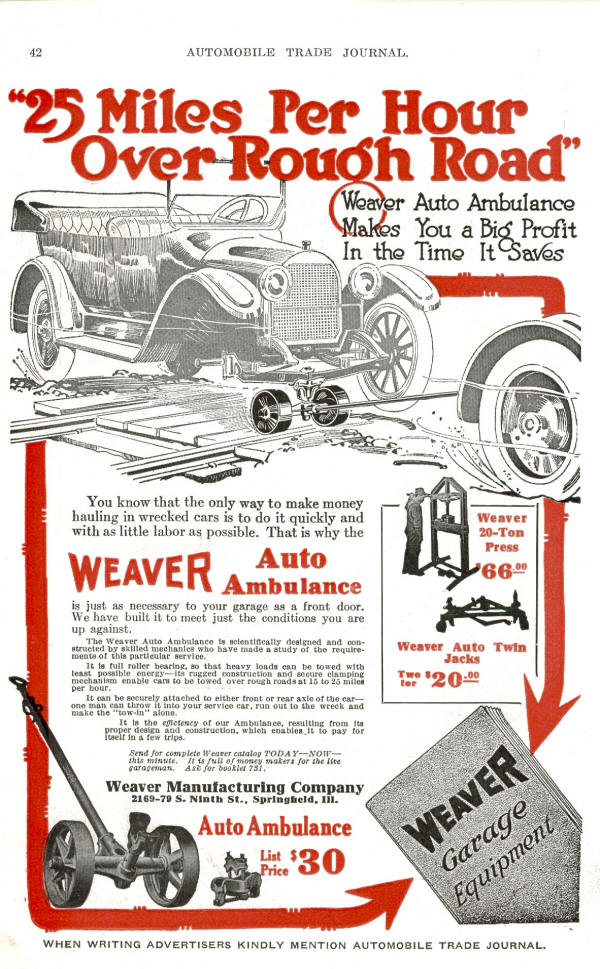 Automobile Trade Journal Magazine
of 1918 Featured The Weave Auto Ambulance for Low Cost Automobile Towing .
WEAVER GARAGE EQUIPMENT AD FROM 1923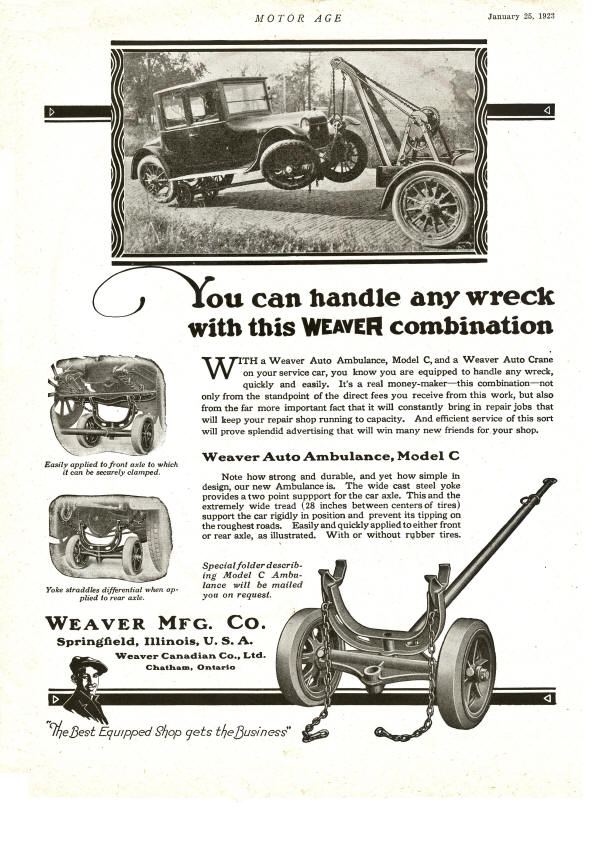 The Weaver Auto Ambulance Model "C" is advertised here in Motor Age Magazine of January 25, 1923. This advertisement- shows how - along with the Weaver Auto Crane, an automobile could be towed with all 4 wheels off the ground. The Auto Ambulance went under the rear axle and it's tongue extended to engage the tow hook at the vehicles front. Model WB-12 had steel wheels and Model WB-13 had rubber tires.
WEAVER GARAGE EQUIPMENT AD FROM 1924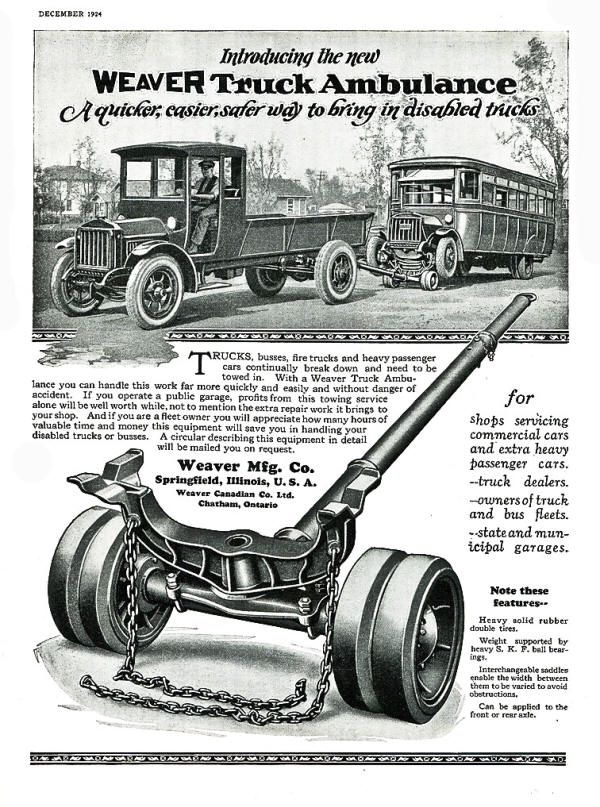 This Advertisement from 1924 introduces the New Truck Ambulance
WEAVER GARAGE EQUIPMENT BROCHURE FROM 1927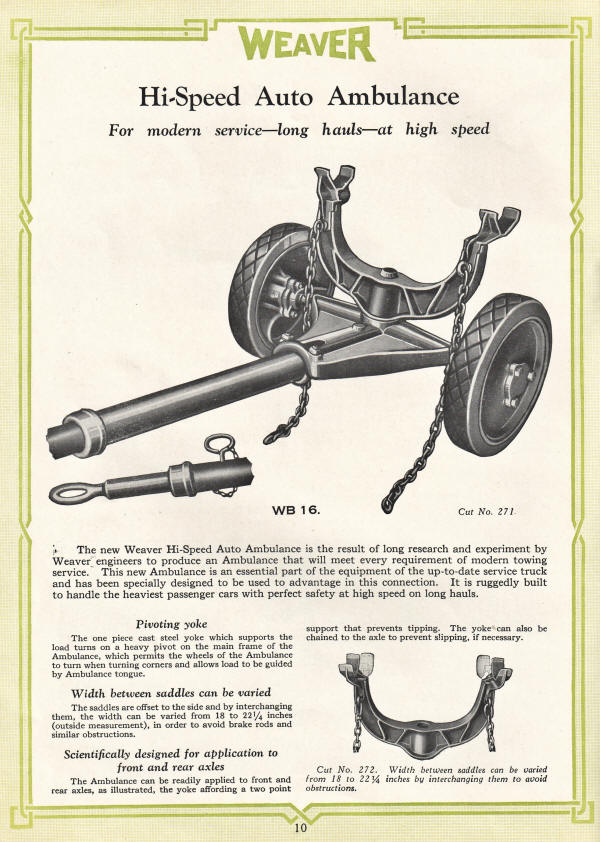 The Weaver High Speed Auto Ambulance ( WB-16) was designed for long hauls and hi speed transport. It could be placed under the front axle or under the rear axle with it's tongue extended to engage the lifting hook of a tow truck. Each wheel had twin roller bearings
+

WEAVER GARAGE EQUIPMENT BROCHURE FROM 1927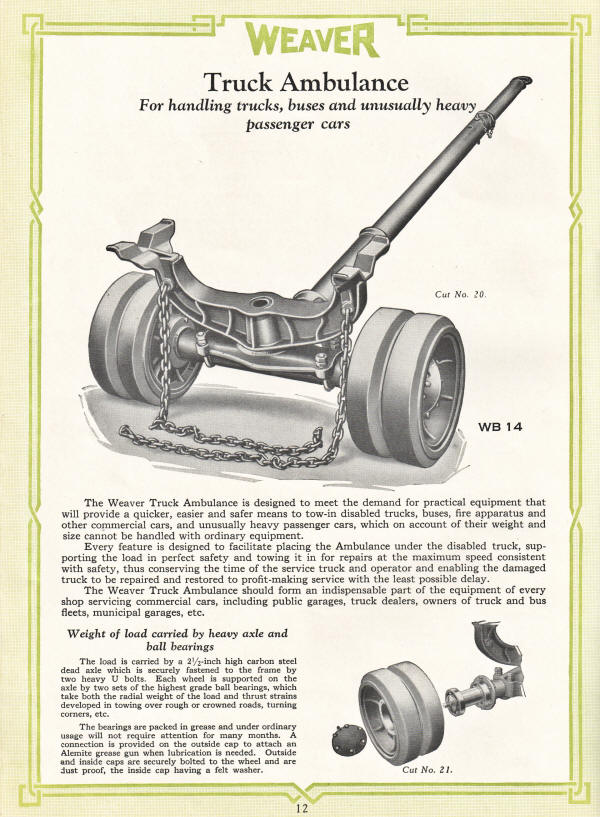 The WB-14 Truck Ambulance had dual steel wheels 8.5 " wide and 16" high. The wheels had double roller bearings. It used a 2.5" heavy duty axle. Trucks and Buses could be easily moved with the Truck Ambulance version of the Auto Ambulance
Weaver Auto Ambulance - Towing Dolly
The Weaver Auto Ambulance was a low cost way to move cars without having a Tow Truck. It first appears in a 1915 Advertisement . "25 miles an hour over rough roads" was the claim in an advertisement in 1918. The cradle fit the front or rear axle of the vehicle being towed. Using another car instead of a wrecker was very economical. Shown is a photo of a Ford Model T under tow.

| | | |
| --- | --- | --- |
| | | |
It was available with Rubber Tires or with Plain Steel Wheels. There were two cradle styles, One with a Standard Single Point Axle Mount first Patented on January 19, 1915 , and One with a Heavy Duty Two Point Axle Cradle - The Model "C" ( also called a WB-13) - which was first available in 1922. A Telescoping Tongue was standard. The Model "C" was 28" wide and the cradle could straddle the rear differential. As shown in one of the above AD's, you could use the Model "C" on the rear axle - telescope it's tongue to the front of the car, where a tow truck hook could engage it and pickup the front axle at the same time. This allowed an automobile- with two damaged axles to be towed safely.
The 1928 Weaver Garage Equipment Catalogue listed Additional models that were introduced later, including the Weaver Hi Speed Auto Ambulance Model WB-16, with Ball Bearing Axles and 16 x 3-1/2" Rubber Tires. Also available was a Truck Ambulance Model WB-14 - this model had dual 16" x 8" Rubber tires and a 44" width.







copyright 1997-2014
Castle Equipment Co.

| |