Alignment Tester
Brake Tester
Jack Stands
High Service Stands
Service Jacks
Trailers - Closed & Open





Trailex
Weaver Jack
Weaver Safety Lanes
Nationwide
Direct Shipping

888-274-8490


Headlight Testers


WEAVER HEADLIGHT TESTER BROCHURE FROM 1981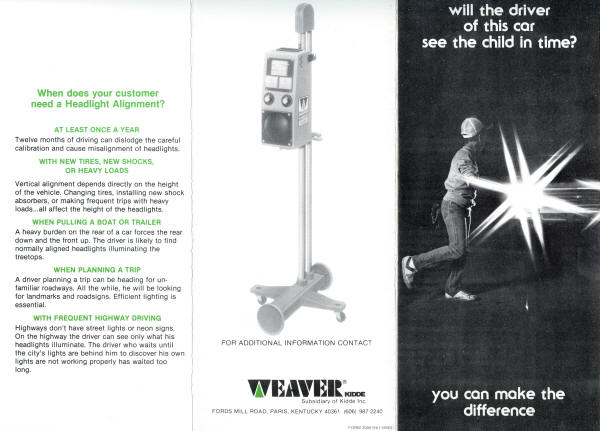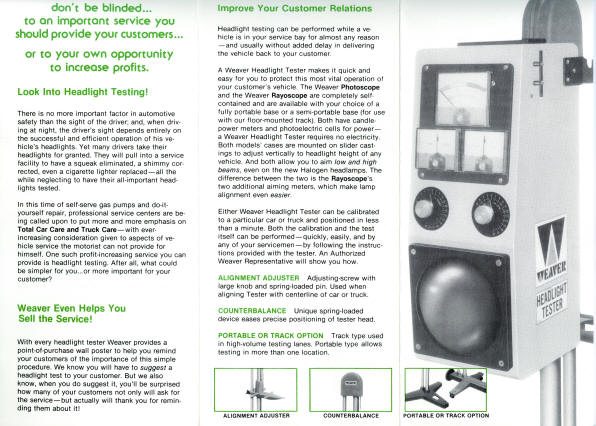 This 1981 Sales Brochure detailed the features of the Weaver Headlight Tester Models
WEAVER HEADLIGHT TESTER BROCHURE FROM 1950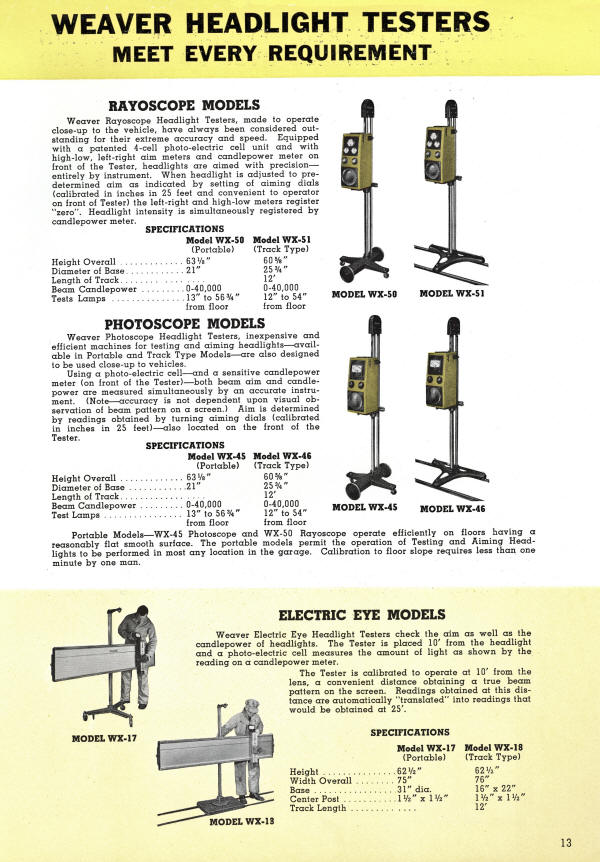 The Weaver WX-17 and the WX-18 Headlight Testers are shown still available in 1950, even though the WX-45, WX-46, WX-50 and the WX-51 Models were the successor models
WEAVER MANUAL FROM 1940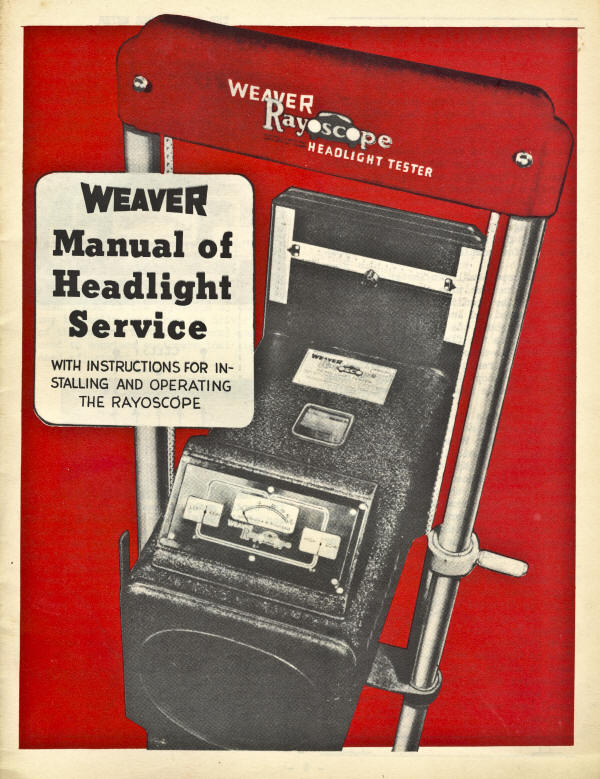 This manual featured a picture of the very first Weaver Ray O Scope Headlight Tester. This model was later redesigned to have a vertical profile
WEAVER SAFETY LANE EQUIPMENT AD FROM 1939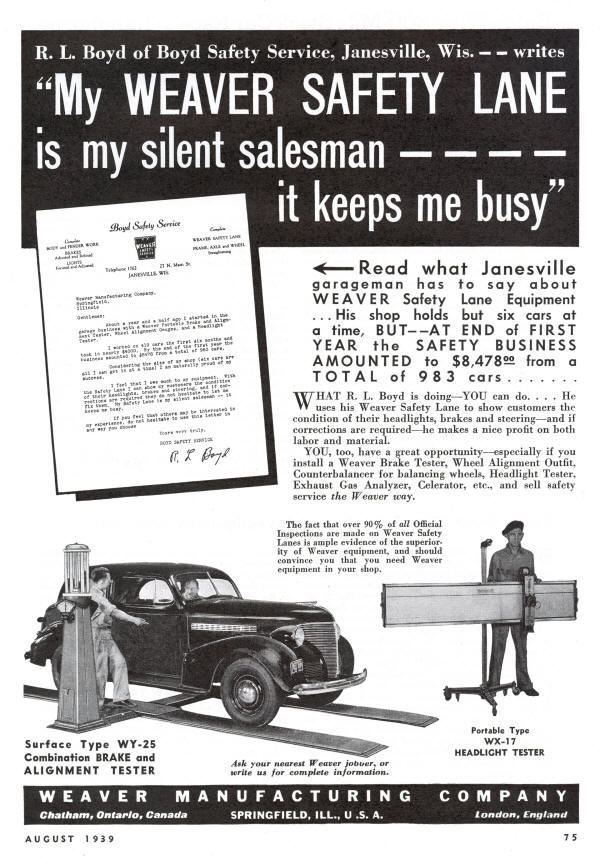 Weaver Catalogue Advertisement from August 1939 Featuring the Weaver WX-17 Headlight Tester and the Weaver WY-25 Brake Tester The Term "Safety Lane" was Trademarked by Weaver.
WEAVER SAFETY LANE EQUIPMENT BROCHURE FROM 1932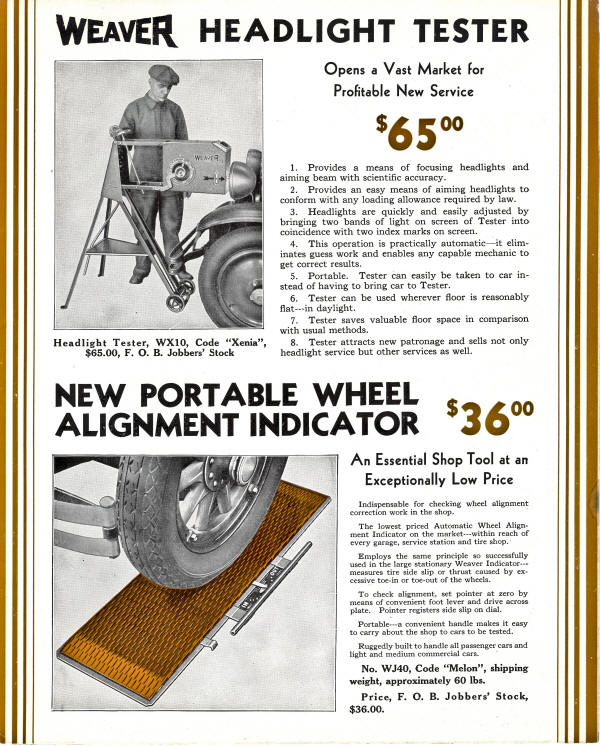 The Weaver WX-10 Headlight Tester is featured in this brochure page from 1933. This was Weavers very First Headlight Tester
1st Weaver Headlight Tester Model WX-10
This was the First Headlight Tester Advertised by Weaver. It was first featured in a 1930 AD
Weaver WX-17 Model Headlight Tester
This Weaver WX-17 "Electric Eye" Headlight Tester was produced first in 1937. It was used up to the 1950's . The WX-18 Model used a Track System.
First Weaver
Ray O Scope Model
The Weaver Rayoscope Headlight Tester was first introduced in 1939, along with the advent of sealed beam headlights on cars. There were comparatively few of these models manufactured and the horizontal profile of the body was changed to the familar vertical profile of the redesigned WX-50-51 Rayoscope Models
Weaver Photoscope & Rayoscope
Headlight Testers


(Discontinued)

WX-51 Rayoscope Headlight Tester
WX-45 Photoscope Headlight Tester
WX-46 Photoscope Track Model
WX-50 Photoscope Portable Model
Photoscope had One Indicator Meter

Rayoscope had Three Indicator Meters.



WX-45A Photoscope was portable

WX-46A Photoscope used a floor mounted track

WX-50A Rayoscope was portable

WX-51A Rayoscope used a floor mounted track
Early Rayoscope Model
Manuals Available for these Models - Click Here
The Weaver Rayoscope and the Weaver Photoscope Headlight Testers were produced from the 1950's until they were discontinued in the early 1990's.




| |






copyright 1997-2014
Castle Equipment Co.

| |