Alignment Tester
Brake Tester
Jack Stands
High Service Stands
Service Jacks
Trailers - Closed & Open





Trailex
Weaver Jack
Weaver Safety Lanes
Nationwide
Direct Shipping

888-274-8490

Lifts & Hoists


Weaver's first Lifting Product was the Auto Twin Jack made in 1910. Weaver Lifts are no longer in production. The Lift Division was purchased by it's main competitor in the Automotive Lift Industry - Rotary Lift - who then discontinued the Weaver lift Line in 1989. The are tens of thousands of Weaver Lifts still in service. Aftermarket parts for them are available from a number of vendors including SVI International. See the History Page for more details.
WEAVER LIFT AD FROM 1980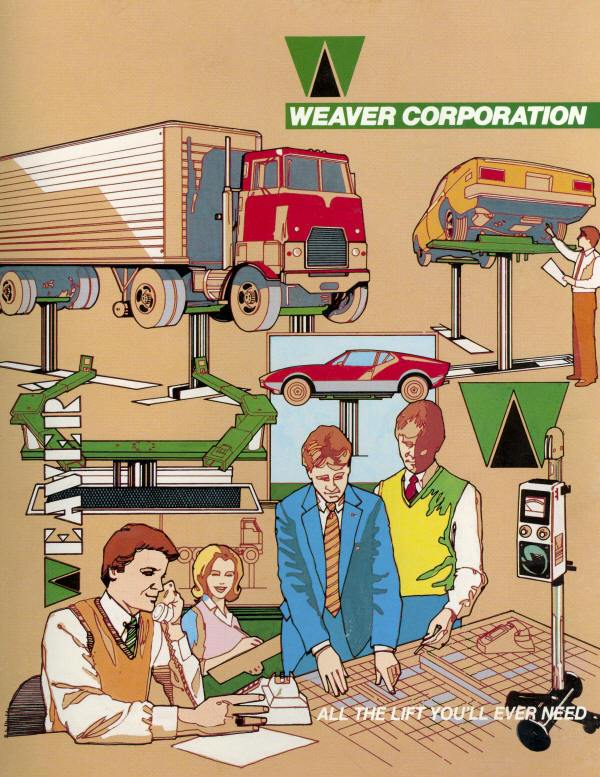 This circa 1980 Weaver Lift Presentation Folder Highlighted the Weaver Product Lineup
WEAVER LIFT ADVERTISEMENT FROM 1977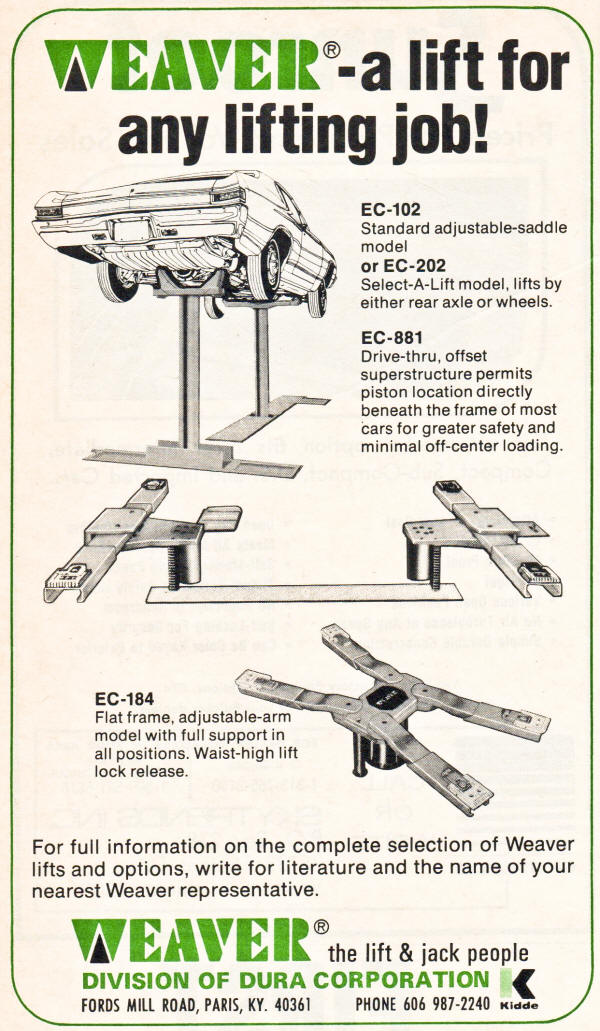 Here is a May, 1977 Weaver Lift AD from Automotive News
WEAVER LIFT ADVERTISEMENT FROM 1966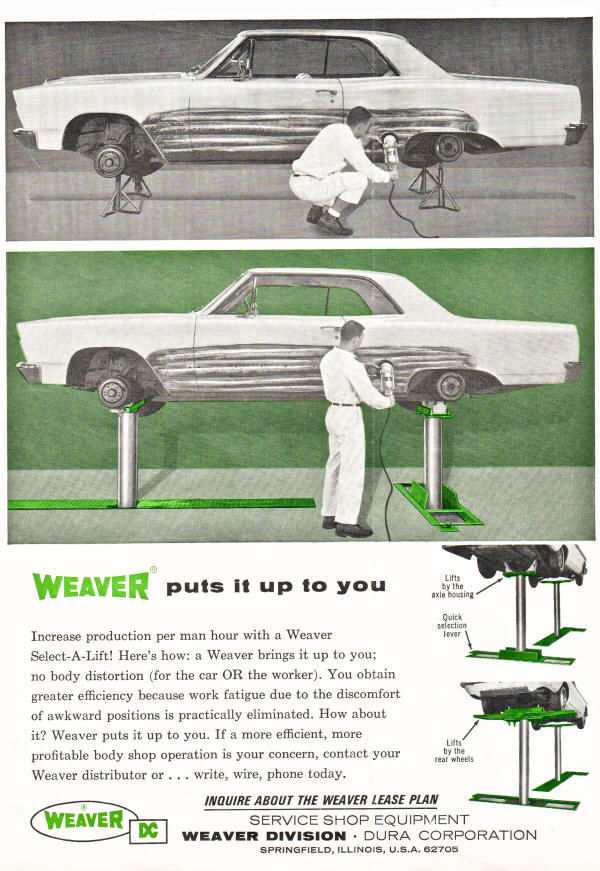 1966 Weaver lift AD in
Automate News
Ad from May 1966
WEAVER LIFT FLYER FROM 1950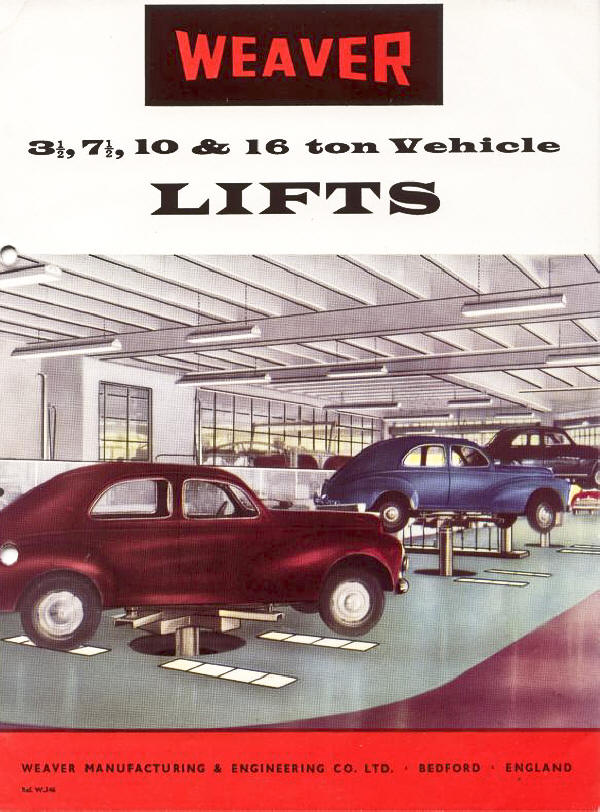 Here is a 1950 Weaver Lift Flyer from the Bedford England Lift Division
WEAVER LIFT AD FROM 1927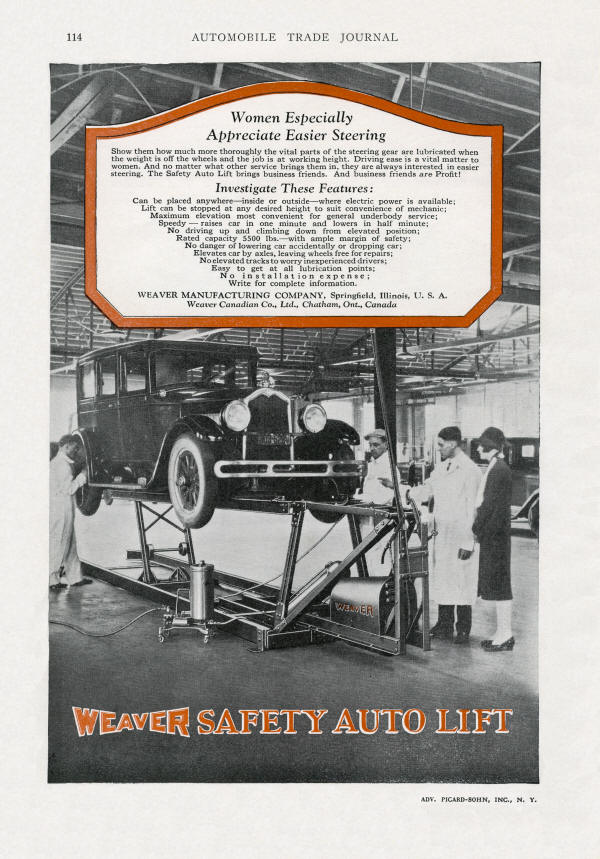 Ahead of it's Time. This August 1927 AD from the Automobile Trade Journal shows the All Electric Weaver Automobile Lift with a 5500 lb Capacity - It could raise to full height in under a minute.
WEAVER LIFT LUBRICATION SERVICE RACK AD FROM 1925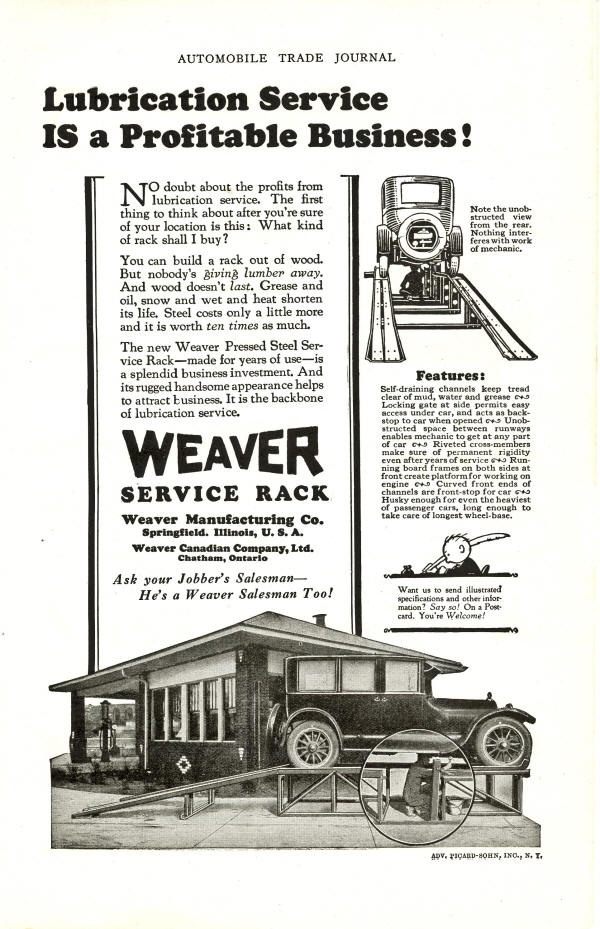 In 1925, the Automobile Trade Journal featured this Weaver Advertisement for Lube Service Racks. This heavy duty drive up rack allowed easy access to service a car.
WEAVER TRUCK LIFT AD FROM 1919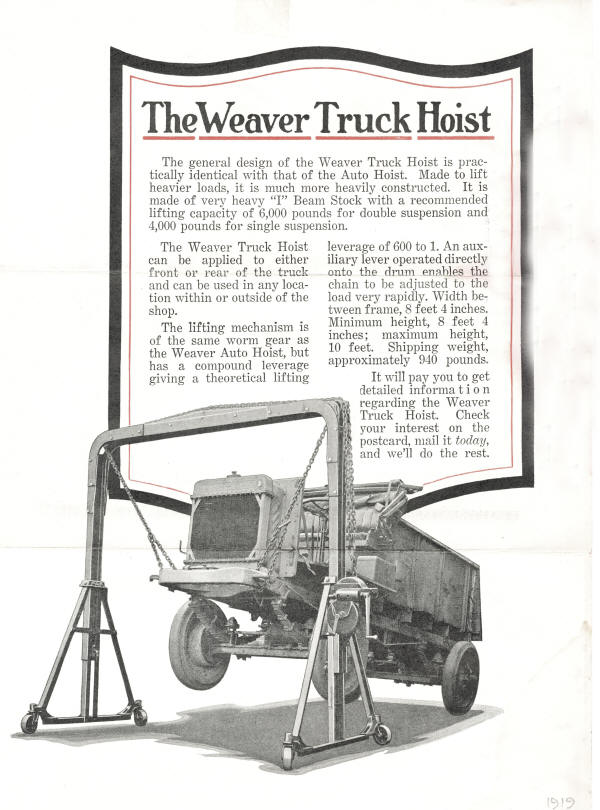 This 1919 Weaver Brochure featured the Weaver Truck Hoist, shown in operation with a
Nash Quad Truck being raised up to allow service work.

The Weaver Truck Hoist had a Capacity of 6000 lbs. It could lift to 10 feet in height. It could completely lift a truck in minutes. It had a 600:1 Lifting Ratio.

The same brochure also advertised the smaller Weaver Auto Hoist with the following description of the use of this rolling gantry type mechanical hoist.
Excerpt of Text from 1919 Letter from
Weaver Manufacturing Company

"Thousands of years before you and I ever went into the automotive business, there existed monsters who could pick up a giant tree by the roots as easily as either of us can lift a tire iron.
Those monsters are gone. But I would like to tell you about a monster of steel and iron that takes up hardly any room at all in the repair shop and yet can lift any car, front or rear, as easily as you or I could lift a gallon container of oil.
It is known as the Weaver Auto Hoist.
The Weaver Auto Hoist can be run into position over a car in a crowded shop from either front or rear, without requiring more than from 12 to 16 inches of space on either side of the machine. When not in service,
it
can be run astride of some car in the shop, thus occupying practically no more space than the car itself
.
Not only will a Weaver Auto Hoist turn heavy lifting into easy work inside your shop, but there are numerous outside uses which will net you real money. A Weaver Auto Hoist will pay for itself in a short time; it is, by far, the best investment you can make."
WEAVER AUTOMOILE LIFT AD FROM 1918
Motor Age Magazine from October 17th , 1918 Featured the Weaver Auto Hoist for Cars
The Weaver Auto Hoist had a Capacity of 3000 lbs. It was adjustable to either 8 or 9 feet in height. You could completely lift a car in 2 minutes. It had a 500:1 Lifting Ratio
WEAVER ENGINEERING DESIGN TEMPLATE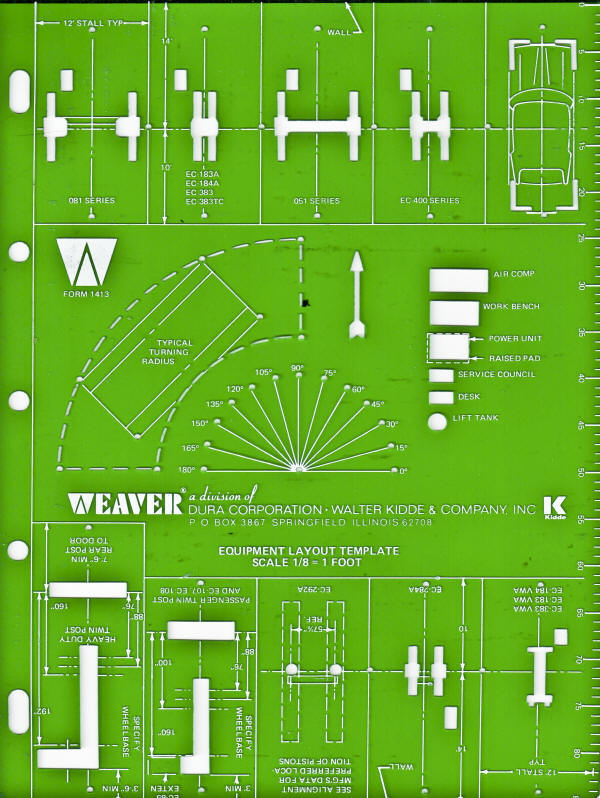 Weaver Engineers used this Design Template (from the 1960's) t o layout a customers garage for the most efficient use of space and equipment.






| |






copyright 1997-2014
Castle Equipment Co.

| |